If you're new to Cram Fighter, let us start by telling you what Claire S., from Brandeis University, says about us: "Cram Fighter helped me organize and tackle a seemingly insurmountable task while also providing motivation to stay on schedule. I am incredibly grateful for this app and would highly recommend using it!" You might be wondering why Claire loves us so much or how Cram Fighter can be so helpful. So, let's get to it.
Getting started
Cram Fighter helps you organize all of your resources in one place. Cram Fighter schedules all of your resources to ensure that you will cover all of the material before your exam date. After you add the dates you want to study and all of the material you want to cover, Cram Fighter will create a detailed daily task list with all you need to do to accomplish you goal. Cram Fighter makes your studying manageable by creating a unique and personalized study plan based on your selected resources, the length of your study period, and vacation days.
Tackling your study plan one step at a time
Your personalized study plan will lay out everything that you need to achieve, step by step, until your exam date. You choose you study dates and resources and Cram Fighter will schedule everything that needs to be some each day in order to accomplish everything by your exam date. Cram Fighter organizes your resources and informs you precisely what needs to be accomplished on any given day.
Cram Fighter helped me organize and tackle a seemingly insurmountable task while also providing motivation to stay on schedule.

Claire S., Brandeis University
Track your progress
By having your schedule clearly displayed, you are able to monitor yourself and keep track of what still needs to be done.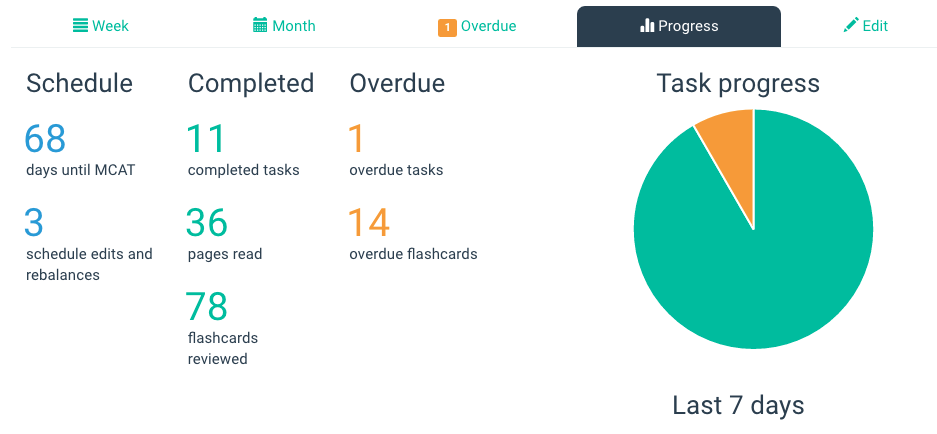 Feel Accomplished
"Cram Fighter helped me calm down, take one day at a time, and gave me daily proof of what I had done and the progress I was making," says a medical student at University of MN Medical School - Twin Cities. Checking-off tasks from your study plan keeps you motivated and feeling accomplished. "The satisfying feeling of being able to check things off the list as I covered them is what kept me going," says another Cram Fighter user.
Make changes and easily rebalance your schedule
"It was really easy to move things from one day to another if I got behind, or reset my schedule if I decided to change things up," says Jessica R. Cram Fighter allows you to create a plan with a firm backbone, but it also allows for flexibility. You can add resources, add a free study day, or change your schedule if you fall behind (which happens to the best of us). Whatever the changes may be, Cram Fighter will rebalance your entire schedule across the remaining days of your study plan.